Designed and made by Vangear
Frequently asked questions
Will I need to assemble my unit?
---
No, our pods are fully assembled and ready to fit.
---
Do I need a floor rail system in my van (like the VW California)?
---
No, our units are a universal fit and can be installed in a variety of ways. They can be bolted through the floor, fixed directly onto the floor (with either our fitting plates or a rail section), attached to seat fixings (e.g. onto the VW Kombi/Shuttle or Ford Tourneo seat fixings with our J-clips) or attached onto sliding rails. We have attachments for ther following rails: - VW California/Caravelle/Multivan - Mercedes Marco Polo/Viano/V-Class/Tourer Select - Unwin rails - Reimo rails - Citroen Spacetouer/Peugeot Traveller/Toyota Proace rails - Some of our attachments can also work in other rails (e.g. Alphard/Elgrand)
---
Will I need to do any plumbing? and which gas bottle do i need?
---
Our units are pre plumbed in with fully integrated plumbing systems including an auto tap, pump, plumbing, clean water and grey water bottles. You will need a Campingaz R907 or R904 or R901
---
Does my unit need 12v electric?
---
Our units come with a fitted 12v plug (cigarette lighter plug) to power the auto pump (which only uses a very small amount of 12v power). This can be plugged into the dashboard or the lesiure battery etc. The Mini-Pod has the option of a cordless tap which just needs to be recharged via USB.
---
Does a unit with a fridge or cooler need a leisure battery?
---
Yes, for operation when the engine is off a leisure battery will be needed.
---
What happens if I have a problem with fitment into my van?
---
Our Fitment Support Guarantee

In the event of problems fitting your pod we will: Help with technical advice Help you with any fitting adaptors/extra mounting plates In the unlikely event that the unit does not fit - A 14 day return policy
---
How long does manufacture and delivery take?
---
Please allow around 2 weeks until dispatch (Up to 3 weeks ) as we have to build and ship your unit. See delivery information below. IN STOCK pods are dispatched in 2/3 working days and then add transit times.
We aim for less, but a busy schedule and stock levels can be a factor. If you are based outside the UK then please factor in the additional shippping time.
---
Do we export?
---
The Mini and Nano pods can be purchased directly from our sister company in Portugal (www.vangear-eu.com) with no customs charges. We also send parcels direct to Europe (Mini-Pod, Nano & Kombi 3 units) with DHL but a quote is required. Please note that we can only ship pallets to Europe (i.e. the Maxi XS, Maxi or systems) if you are a company with a VAT/EORI number.
---
Do we offer other colours and customised pods?
---
We only offer the following colour options: grey or black for the unit and grey, black or dirftwood effect for the countertop and table. The pods are fixed as they are and we don't make bespoke pods. We can however potentially make small changes to the pods, but nothing that will change the overall dimensions.
---
How can the tables be stored?
---
Mini Table (550mm x 200mm) - This can be stored inside the Kombi 3 and Maxi XS units. There is also the option to buy our table storage clips (self-fitting only) to store it on the back. There is a separate table storage kit for the Nano. Large Table (490mm x 615mm) - This can be stored inside the Maxi pod and on the back of the Maxi XS and Kombi 3 pods with our table storage clips (self-fitting only). There is a separate table storage kit for the Nano.
---
How are the Mini, Nano & Kombi pods delivered?
---
The Mini, Nano and Kombi pods are delivered in a box and with possibly an
extra box for the large table, extras etc. Parcelforce/DHL will e-mail and text you tracking details. You will be notified once your pod has been dispatched and it will normally arrive 2 working days after dispatch if UK based. Please remember on the rare occasion that 2 boxes get separated boxes could be delivered on separate days ( see delivery label if there is more than one box)
---
How are the larger Maxi XS/Maxi/Modular Systems delivered?
---
The larger units will be delivered on a pallet: Maxi XS, Maxi & Full Systems Please bear in mind pallet delivery tracking is not as interactive as parcel delivery. We will send you the tracking number and please try and arrange to be in for the delivery. They will give an approximate time and will ring your mobile ahead.
---
Will I receive delivery tracking?
---
Yes, we will send you tracking info and the shipping company will email/text you updates.
---
What happens if there is a missed delivery / delay / damage
---
On rare occasions there are delivery problems and this can be frustrating for both you and for us. By the nature of their size and weight campervan units are awkward to deliver. Once your pod has left us we are in the hands of our parcel/pallet courier's and their tracking. Please leave sufficient time before any holiday for delivery, installation and testing of your campervan pod.
---
How easy are our units to fit?
---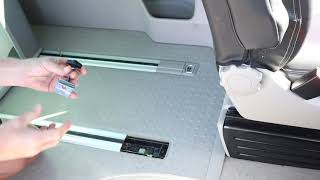 Here at Vangear we have spent many years designing and developing our campervan pods so when it comes to fitting a Vangear unit, we have some advantages - Our pods are fully assembled - With fully integrated plumbing systems - Gas fittings & regulator included (you will just need to purchase the gas bottle) - Designed for easy - straight forward fitting - Our fitment support guarantee Our fitting instructions are also available below
---
How do I clean the fresh water hose?
---
After prolonged use the water hose may require a clean. There are many water purifying products out there, such as Puriclean. Please follow the instructions carefully as adding too much at once could damage the pump.
---
Are the appliances included?
---
On the units with the built-in hobs/sinks the hobs/sinks and relevant gas fittings/regulator are included. You will just need to purchase the Campingaz R904 or R907 bottle. The Mini-Pod and Nano are set up for the generic portable stove (e.g. Outwell Appetizer, Campingaz Bistro, Kemper Xtra Smart (33cm wide) etc) which is not included. These portable stoves use the disposable gas cartridges.
---
---
Unit Installation instructions
Modular system instructions
​​
We have supplied a Campingaz regulator (not Nano) for Campingaz bottles R907/R904/R901.

Instructions for the gas hob are included (Dometic or CAN). The guarantee for the hob is handled via Dometic service centres. Please refer to the Dometic website: https://www.dometic.com/en-gb/uk/support

Instructions for the Vitrifrigo fridge are included . The guarantee for the fridge is handled via Vitrifrigo service centres. Please refer to the website: https://www.penguinfrigo.co.uk

We kindly request that you thoroughly test all of the functions of your pod before going on holiday